General Dentistry – Syracuse, MY
Achieve a Happy and Healthy Smile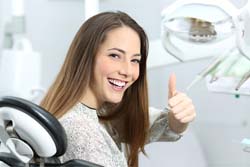 Many recent health studies have discovered a conclusive link between dental and overall health and wellness. Good dental health can significantly impact your ability to fight off disease, combat illness, and even maintain professional and personal relationships. If you wish to maintain a healthy mouth and optimal overall health, schedule a Syracuse dentist general dental care appointment with Creative Dental Concepts of CNY today. Dr. Craybas is an experienced general and family dentist , now proudly serving patients of all ages daily throughout central New York, Syracuse , and the surrounding communities.
Meet Your Syracuse Dentist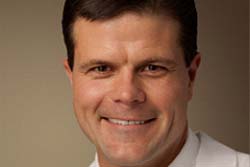 Dr. Gregory Craybas leads the dedicated team of professionals at this practice who are committed to building a relationship with your child and giving them an excellent experience every time they visit our office.
For decades Creative Dental Concepts has served patients residing in Syracuse, NY and its surrounding communities. Your family will receive comprehensive dentistry including many services that you won't find at other practices, so you'll have all your needs met here under one roof. With innovative technology we're able to offer same-day dentistry and procedures that are more efficient and comfortable for our patients.
Dental Checkups & Cleanings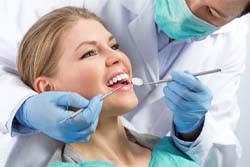 Even though dental disease can damage your health, it's almost entirely preventable. Tooth decay occurs when carbohydrate rich food (breads, cereals, milk, soda, fruits, cakes, and candy) residues are left on the teeth. The bacteria that live in the mouth will begin to feed upon and digest these foods, turning them into enamel eroding acids. The bacteria, acid, food debris, and saliva combine to form a sticky substance called plaque, which clings incessantly to your teeth. The acids in plaque will begin to dissolve the enamel, creating decayed holes in the teeth called cavities. If this occurs, not only tooth decay, but gum disease will also develop.
The bacteria in plaque buildup can also inflame and infect the gums, causing them to easily bleed while brushing or flossing. If left untreated, early stage gum disease can advance into periodontitis, a condition where the inner layer of the gum and bone pull away from the teeth and form deep pockets of bacteria, eventually leading to adult tooth loss.
Fortunately, regular dental checkups and cleanings from your Syracuse dentist can rid your teeth of the harmful plaque and bacteria deposits which cause decay and disease. We encourage our patients to come see us every six months so we can ensure your smile stays happy and healthy.
Children's Dentistry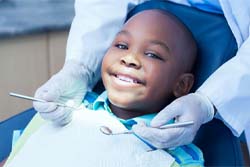 At Creative Dental Concepts, we want to provide dental care for your entire family. We enjoy treating children, as well as adults. Parents usually start bringing their children in to get their teeth polished and checked at about two to three years of age. Starting them off right is very important in establishing a relationship with dentistry that is enthusiastic and positive for the rest of their lives!
Your Child's First Visit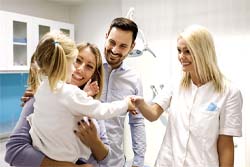 During your child's first visit to our office, we spend a lot of time at making them feel comfortable and at ease. They will get a ride in the "big chair," meet Mr. thirsty, and learn about all the tools we use to count and clean their teeth.
We won't ever move forward with any type of procedure until they feel completely comfortable in doing so. We also explain to them everything that we're doing so they don't ever feel uneasy or surprised during a procedure. It is our goal to have your child feel happy and even excited about their visits to the dentist.
As Your Child Grows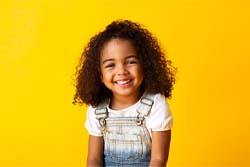 As your little one gets older, Dr. Craybas may recommend additional services for them such as a fluoride treatment or dental sealants. Fluoride is a mineral that works to strengthen teeth that are developing, while also helping to remineralize teeth that have been affected by decay.
If your child decides to participate in sports, it is important to ensure that they have the right protective wear for their teeth and mouth. A customized mouth guard offers much better protection than those purchased at the store. Our dentist will recommend the right kind of mouth guard for your athlete, and we can even craft it here in our office for you.
Caring for Your Child's Smile At Home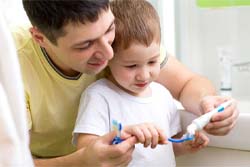 There are many ways you can make learning about oral health fun for your child and avoid the daily battles over brushing and flossing their teeth. Here are a few helpful tips on making home care more fun for your child.
Let them choose their own tools. With so many colorful and fun dental products available for kids these days, your child may get more excited about brushing if they get to choose their favorite color or flavor of toothpaste, or the toothbrush that sings.
Try an electric toothbrush . Does your little one have trouble removing all the plaque and tartar buildup on their teeth? Most kids do. An electric brush does a lot of the hard work for them, and ensures that they're brushing for 2 minutes with a timer.
Track their success with a chart. Make a fun chart to track their daily brushing and flossing. Have them help you make it colorful and decorate it. When they brush twice and floss once each day for a week, consider giving them a small reward.
What are some of the ways you as a parent can support your child's oral health at home? Here are some more ideas.
Lead by example . Let your child watch you brush and floss your teeth and show them how you do it. This will motivate them to follow suit.
Choose healthy snacks. Limiting snacking throughout the day is your best bet as these small meals can contribute to the development of tooth decay. If your child does reach for an afternoon snack, offer them fruits or vegetables, which actually help to neutralize the acids in their mouths that cause decay.
Visit us regularly . Just as you visit the dentist every six months, so should your children. Be sure to stay consistent with their dental visits so you can catch any issues as early as possible.
Call Us to Schedule Your Child's Next Appointment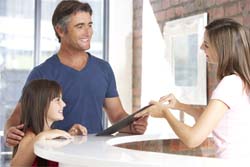 We look forward to meeting your child and building a long-term relationship with them that will lead to much success for their future dental visits. Contact Creative Dental Concepts if you have questions about your little one's oral health, or if it's time to schedule their next appointment.
Oral Cancer Screenings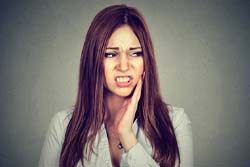 Oral cancer screenings are a routine part of every regular dental checkup. We'll look closely at your smile to look for any warning signs of this dangerous disease. Oftentimes, symptoms of oral cancer can be difficult to spot without the assistance of a highly trained professional like your Syracuse dentist. Should we find any concerning signs, we'll help you determine what steps to take next. The earlier oral cancer is caught, the easier it is to treat successfully.
Fluoride Treatment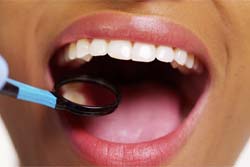 Fluoride, a naturally-occurring mineral contained in rocks, water and soil, builds stronger tooth enamel by resisting the acids secreted by ordinary oral bacteria. Less acid translates to fewer cavities.
Applied to teeth via toothpaste, treated water, oral rinses, and dentist-applied gels and varnishes, fluoride stops the demineralization of tooth enamel and actually reverses it. Young teeth, between the ages of 6 and 16, respond particularly well to this popular tool of family dentistry, and research shows fluoride remains helpful to tooth enamel throughout the lifespan. We offer fluoride treatments for patients of all ages to dramatically reduce the risk of tooth decay.
How Fluoride Treatments Work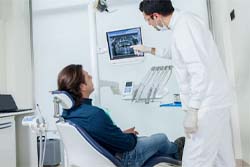 Fluoride rebuilds enamel before decay can even be detected by your Syracuse dentist. The calcium and phosphorous always present in saliva work to mineralize enamel. The acids secreted in the mouth when people eat carbohydrates degrade and de-mineralize tooth enamel, softening it and creating the holes called cavities.
Other conditions contribute to softening enamel, too--things such as:
a history of dental decay
gum disease
xerostomia or dry mouth
multiple restorations such as crowns and fillings
traditional wire and bracket braces
bridgework and removable partial dentures
Gregory A. Craybas DDS of Creative Dental Concepts of CNY recommends in-office fluoride treatments for all patients at risk of dental cavities. A simple, quick procedure, a fluoride treatment is added to a patient's twice yearly check-ups and cleaning routine.
Using Fluoride at Home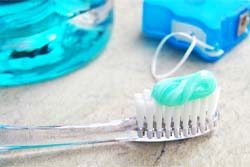 For at-home hygiene, the dentist outlines these simple preventative tips:
Use a quality fluoride toothpaste or rinse carrying the American Dental Association Seal of Acceptance.
Brush at least twice a day for 2 minutes, and floss daily to remove food particles and plaque from between teeth.
Supervise children as they brush. Apply their fluoride toothpastes in small amounts. For under 3, use a grain of rice-sized amount. For ages 3 to 6, use a pea-sized amount.
Keep Your Family's Teeth Strong & Healthy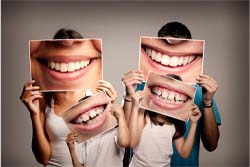 Maintaining a strong and healthy smile will help you maintain a strong and healthy body. Start protecting your dental and overall health today; schedule your next Syracuse dentist appointment with Creative Dental Concepts of CNY . Dr. Craybas sees highly qualified general , cosmetic , and restorative family dentists, now proudly delivering quality care daily to patients of all ages throughout central New York , including Syracuse and the surrounding communities.
Dental Sealants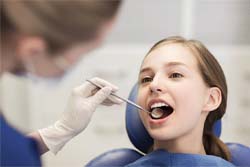 A dental sealant is a thin plastic film of tooth-colored resin bonded onto the chewing surfaces of teeth. Dental sealants have been shown to be highly effective in the prevention of cavities. Scientific studies have proven that properly applied dental sealants can be 100% effective in protecting the tooth surfaces from caries. Children, because they have newly erupted permanent teeth, receive the greatest benefit from dental sealants.
Periodontal Therapy
Do your gums bleed easily, especially when you floss or brush your teeth? You may have gum disease. This common oral health issues impacts over 60% of the general population, and is cited as the leading cause of tooth loss in the United States. To help your smile stay complete, healthy, and infection-free, we offer periodontal therapy for individuals suffering from gum disease or gingivitis.
TMJ Therapy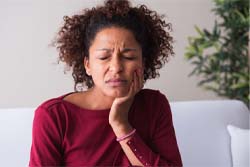 TMJ disorder, or TMD, is a widespread issue that consists of pain, soreness, and stiffness in the jaw. If left untreated, it can lead to a host of severe oral health issues. That's why we offer TMJ therapy and solutions. Our Syracuse dentist will evaluate your condition to and review your treatment options with you. Many patients can address their TMJ disorder with a custom nightguard, while others may require some sort of orthodontic treatment.
Sports Mouthguards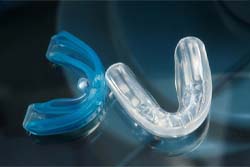 Unfortunately, we occasionally see the consequences of sports injuries from either wearing poorly-fitting mouthguards or none at all. In our office, we can make custom-fitted mouthguards that are designed for the type of sport that you are involved in. Preventing sports injuries by wearing properly-fitted mouthguards is always less expensive than the alternative!
Consultations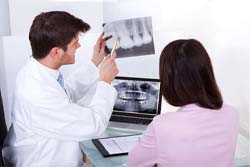 In dentistry, there are often several treatment options for resolving dental problems. If you are having difficulty deciding which treatment is best for you or if you would just like another opinion, Dr. Craybas would be happy to accommodate your needs. Just call our Syracuse office for an appointment. Of course, we will need current X-rays, so please bring them in with you. We can also take new ones here!
Schedule Your Next Appointment Today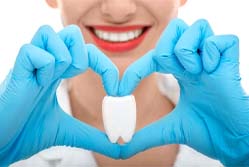 Schedule a Syracuse dentist general dental care appointment with Creative Dental Concepts of CNY today. Dr. Craybas is a trusted general and family dentist , now proudly delivering quality care daily throughout central New York, Syracuse , and the neighboring areas.