Syracuse Root Canal Therapy Saves Smiles
Millions of US adults and kids experience some level of dental phobia or anxiety, but almost every patient cringes when they hear the words, "root canal." The Creative Dental Concepts of CNY team has great news for patients who need root canal therapy, advances in anesthesia and procedural techniques have virtually eliminated the pain formerly associated with root canal therapy. Saving your natural teeth is of primary importance to us. Dr. Craybas does root canal treatments in office for most cases. However, we will consult with a trusted endodontist, a dentist who has specialized in treatment for the inner parts of teeth, as necessary to ensure patients receive the safest, most effective treatments. Before a root canal is done, we need to complete an accurate diagnosis and consultation with you to discuss all of your treatment options. We will always do something to relieve your pain expeditiously, but we will take our team before beginning your root canal to ensure you receive the best possible services. Contact our Syracuse dentistry team right away if you experience any of the common warning signs that you may need root canal therapy. We'll do our utmost to see you on the same day you call to relieve pain and start your dental restoration plan right away.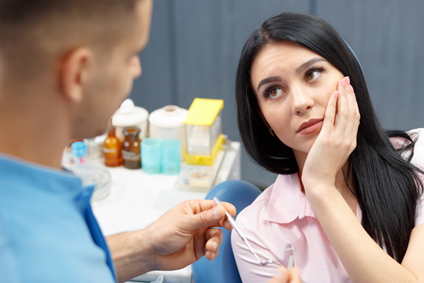 What is a Root Canal & When Will I Need Root Canal Therapy?
Root canals are necessary when tooth damage or decay reaches the very inner layer of the tooth called the pulp. The entire nerve structure of the tooth is housed inside this pulp layer, so when it is directly accessed by decay or damage, the result is the dental sensitivity and toothache that typically proceed the need for root canal therapy. The only way to know for sure that you need a root canal is to consult with a trusted dentist, but you should let your dentistry team know right away if you experience any of the following oral health issues:
Severe toothache that may worsen when biting down
Lingering sensitivity when the tooth is exposed to hot or cold temperatures
Infection or inflammation in the gum tissue around the tooth
Dark coloring in the tooth enamel typically near the gum line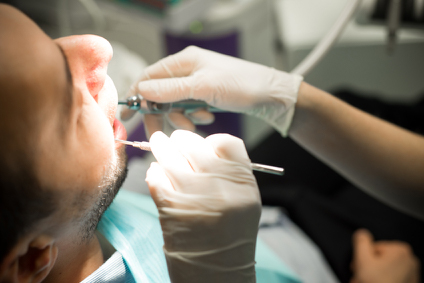 How are Root Canal Treatments Performed?
Root canal therapy will typically require two or more treatment visits. We'll begin by numbing the area around the tooth. Then, a small access hole is drilled from the top of the tooth to the pulp layer. The pulp, nerve, and damaged tooth structures are all extracted through the access hole. Then, the interior part of the tooth is carefully decontaminated. In some cases, we'll need to administer topical or oral antibiotics before we complete the treatment to ensure success. Otherwise, we'll refill the tooth with a biologically compatible substance. Then, the access hole will be sealed off. In most cases, we will also need to place a dental crown to protect and strengthen the root canal treated tooth.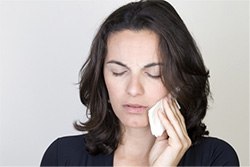 What Other Options do I Have?
The best option for any patient is to do your utmost to preventive root canals before they start by brushing and flossing daily and visiting our office for twice a year dental checkups. In most cases, once you've reached the stage where a root canal is necessary, the only other treatment option is tooth extraction. We will always do our utmost to help you avoid unnecessary tooth loss, but if you're at a high risk for root canal failure, this may be a better solution. One of our team members will carefully outline all of your treatment options during your dental consultation appointment to ensure you feel completely confident in your treatment plan before we begin.
Root Canal FAQ's
If you've been recommended a root canal, you probably have questions about the procedure. At Creative Dental Concepts of CNY, we want all of our patients to have the information they need to feel confident in their treatments. That's why we've included the answers to some of the most frequently asked questions about root canal therapy. Keep reading to learn more about this smile saving treatment and why it's so important!
Should I Be Afraid of Root Canals?
Root canals often get a bad reputation, however there is nothing to be worried about. Dr. Craybas understands that dental anxiety is a real problem, which is why he ensures that all of his patients are numb and comfortable before beginning. He also offers sedation options for a greater sense of relaxation. In most cases, patients will only experience a very slight amount of discomfort in the form of soreness. Our friendly and welcoming office will ensure that you feel comfortable from the moment you walk in!
Is Root Canal Therapy Painful?
While root canals are probably not on top of your list of fun things to do, it is very rare that this treatment will cause pain. We will use local anesthetic to numb the area. In fact, root canals are designed to get patients out of pain rather than put them in it, so you will typically feel better after your appointment than when you walked in! Usually, the only slight discomfort you may feel is some tenderness that can occur during the short recovery process. This can be managed by using over the counter pain medication like ibuprofen.
Why Are Root Canals Important?
We offer root canal therapy because it is a vital part of keeping your smile healthy. Before root canals, the only way to deal with an infected tooth was to extract it. However, root canal therapy allows us to remove decayed or infected tissue without having to remove the entire tooth. This keeps your natural smile healthy and preserved, plus it allows us to practice more conservative dentistry. We always do everything we can before having to extract a tooth.
Is There Any Aftercare or Maintenance for Root Canals?
Once your root canal in Syracuse is complete, there is a good chance that we will restore your tooth with a crown, but this will depend on a case by case basis. Be sure to avoid hard, crunchy, or sticky foods after your root canal, and take it easy on your brushing. Brushing over aggressively can harm the affected area. You should try to be gentle by chewing on the other side of your mouth and schedule your next appointment for a crown as soon as possible to avoid unnecessary sensitivity. Each day, your tooth should feel better. However, if it doesn't, contact our office right away for follow up treatment!