Syracuse Family Dentistry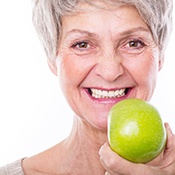 At Creative Dental Concepts of CNY, we know our Syracuse families are busy. That's why we go above and beyond to make caring for your whole family's oral health and hygiene easy. With convenient early morning and evening office hours, comprehensive dental care, and a completely comfortable dental office environment, our team is here to help your family achieve and maintain healthy, beautiful smiles that last a lifetime. If you want to learn more about our dentistry services or schedule an appointment with us, call our Syracuse dentistry office today. We look forward to helping you achieve your healthiest smile.
Benefits of Visiting a Family Dentist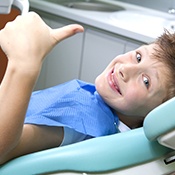 Trusting a family dentist for all of your preventive dentistry needs offers a number of benefits, including:
Consistency – when kids see the same dentist for their entire dental development, they are at decreased risk for oral health issues. The consistency of care partnered with your dentist's familiarity with the child's developing smile, reduces risk for oral health concerns like tooth decay and damage.
Comfort – family dentist offers services that can be customized to meet the needs of any dental patient. A family dental office provides comfortable, friendly services that allow patients to feel completely relaxed throughout their appointments.
Convenience – because you don't need to schedule multiple appointments with several difference offices, family dentistry can be much more convenient for you and your loved ones. Instead of scheduling numerous visits, you can simply bring the whole family to see us on the same day.
Keeping Your Smile Healthy with Comprehensive Dental Care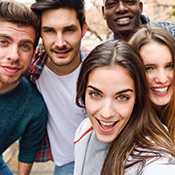 Our family dentist and dentistry team are happy to offer a wide array of dental care options to ensure patients of all ages can achieve and maintain their healthiest smiles. In addition to basic preventive and restorative dentistry services, we offer a variety of more advanced treatment options, including;
Cosmetic dentistry to create beautiful smiles
CEREC same day dental crowns and restorations
Root canal therapy to relieve toothache pain and renew oral health
Periodontal therapy for gum disease sufferers
TMJ dysfunction therapy for jaw pain and chronic migraines
Mouthguards to protect athletes' smiles
Tips for Parents to Keep Kids Smiling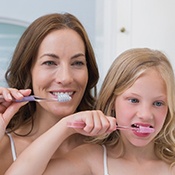 At every age and stage of dental development, kids need special care to keep their smiles healthy. When you visit our Syracuse dental office for children's dentistry services, we will partner with you to keep kids' smiles healthy. In our office and at home, we are dedicated to helping to keep kids smiling. Some of the ways you can help kids achieve and maintain healthy smiles include:
Make brushing teeth, flossing, and visiting the dentist a positive experience. You can make at-home hygiene fun by playing a tooth brushing song, creating an oral hygiene calendar, and providing small rewards like extra screen time for cavity free dental appointments.
Use disclosing tablets to help kids effectively remove plaque buildup from the surfaces of teeth.
Use colorful, tasty, and fun oral hygiene products, so kids look forward to caring for their smiles every day.
Schedule Your Family Dental Care Appointments Today
Schedule a Syracuse dentist general dental care appointment with Central Dental Concepts of CNY today. Dr. Craybas is a trusted general and family dentist, now proudly delivering quality care daily throughout centralNew York, Syracuse, and the neighboring areas.