Syracuse Cosmetic Dentistry
How could a more beautiful smile improve your life? According to employment research, those with attractive smiles are more likely to be hired for a new job or promoted. People with beautiful smiles are perceived as well educated, healthy, and attractive. A flawed smile may have a greater impact on your life than you know. Luckily for patients of Creative Dental Concepts of CNY we offer affordable cosmetic dentistry solutions that can give you the beautiful smile you deserve. We offer a variety of treatment options, including porcelain veneers, teeth whitening, and complete smile makeovers. If you're ready to transform your smile, call our Syracuse dentistry office to schedule a cosmetic dentistry consultation with our dentist and dental care team today. We look forward to partnering with you to transform your smile.
Teeth Whitening
A brighter smile is on almost every patient's wish list. If you've tried countless store bought whitening toothpastes, mouthwashes, strips, and gels with little to no effect, it's time to talk to a professional. We offer predictable, effective teeth whitening services that can deliver smiles up to ten shades brighter. If you're looking for a teeth whitening option that works, look no further. We use the safest and most effective whitening agents and application methods to ensure your smile is brilliantly white. If teeth whitening won't effectively brighten your smile, we will discuss other cosmetic dentistry services that may deliver your desired results.
Learn more about Teeth Whitening
Porcelain Veneers
For a flawless smile in just one, simple treatment, we may encourage patients to receive porcelain veneers. This simple cosmetic treatment uses thin sheathes of porcelain to correct and conceal any number dental chips, cracks, stains, and gaps in teeth. In two short appointments, we'll completely transform your smile. A small amount of tooth structure is removed to prepare teeth for veneers application, and we will likely numb the treatment area just to prevent sensitivity. However, the procedure itself is actually quite comfortable. Once teeth are prepared, we design the custom dental restoration. A trusted lab will craft the porcelain veneers to our specifications, and once we receive this final veneer, you'll return to our office. We'll quickly place the porcelain veneers, leaving you with a flawless smile.
Learn more about Porcelain Veneers
Understanding the Cost of Cosmetic Dentistry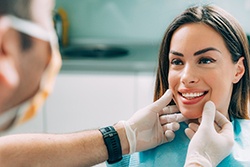 If you're embarrassed by the way your teeth look or have always wanted to improve your pearly whites, then you're likely considering undergoing cosmetic dentistry. With these treatments, you'll be able to achieve your dream smile quickly and effectively. However, you may also want to consider the overall cost of your procedures before jumping on board with any dental work. After all, you wouldn't want to encounter any surprises when it comes to paying the bill. Our team can help you navigate your treatment and financing options so that you can enhance your teeth while sticking to your budget. Read on to learn more about the cost of cosmetic dentistry in Syracuse.
Which Cosmetic Dental Service Is Right For Me?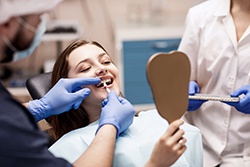 Many patients wish to undergo cosmetic dentistry because they want to show off brighter, straighter, or newly shaped pearly whites. Fortunately, our dental team can help you achieve your desired results with the following treatments:
Teeth whitening – Whether you have extrinsic or intrinsic staining, a professional at-home teeth whitening kit can help you brighten your smile in as little as a couple of weeks. It's one of the most cost-effective and quickest ways to enhance your smile, providing you with dazzling results that can last as long as several months to a few years.
Veneers – This cosmetic treatment comes at a much higher initial value, yet it offers the most versatile and comprehensive solution. Not only do veneers provide virtually permanent whitening results, but they can also address most dental flaws in your smiles, such as chips, stains, gaps, and crooked teeth. The entire process can be finished in a couple of visits, and you can expect the results to last 15 years or more with minimal dental care.
Cosmetic Dentistry Can Be a Worthwhile Investment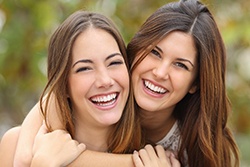 Understandably, cosmetic dentistry can feel like a major financial commitment. However, it's important to remember that the investment in your smile and the benefits it brings can make your treatment worthwhile. On top of improving your oral health, you'll be able to boost your self-esteem as well as your quality of life by confidently showing off your new pearly whites. A person's smile is one of the first things people notice about them. This means you can create great first impressions by flashing a dazzling grin, which can positively impact your social relationships and your career opportunities.
How to Make Cosmetic Dentistry Affordable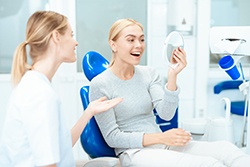 Cosmetic dentistry isn't typically covered by most dental insurance providers, as these treatments aren't considered "essential" dental procedures. This doesn't mean you'll be left completely on your own. You'll want to consider alternative financing options to help make your chosen treatment more manageable. Our team is proud to offer plans with CareCredit—a third-party financier that can help split up the overall cost of your procedure into smaller monthly installments. Many of their plans also come with little-to-no interest, meaning you won't have to empty your pockets to afford the cosmetic treatment you need to enhance your smile.
Cosmetic Dentistry FAQs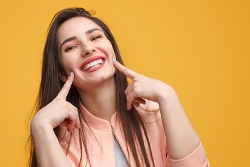 Are you interested in enhancing your teeth to a smile you can be proud of? If so, then you'll likely benefit from cosmetic dentistry. While you may be aware of all the advantages that come with these treatments, you may want to know more about what you should expect before starting any procedures. For your convenience, our team at Creative Dental Concepts of CNY has gathered our most commonly asked questions about cosmetic dental work. Feel free to reach out to us if you don't see the information you're looking for. Our cosmetic dentist in Syracuse, Dr. Craybas, will be more than happy to help!
Does Cosmetic Dentistry Hurt?
Enhancing your pearly whites with professional dental treatment is typically comfortable for patients, whether you choose teeth whitening or veneers. Our team does everything it can to ensure you're safe and pain-free throughout the process. We'll be sure to first numb the area of your mouth that Dr. Craybas will be working on so that you don't feel any discomfort. Whether you have an overactive gag reflex, a resistance to numbing agents, sensitive teeth, or any other concerns about the comfort of your treatment, feel free to inform us. Our team can discuss these worries and adjust your procedure to provide you with a smooth and relaxed experience.
Am I Too Old for Cosmetic Dentistry?
Fortunately, there's no upper age limit for cosmetic dental work. They are especially beneficial for older patients, as our teeth generally begin to wear down over the years. Not only can this cause your pearly whites to become dim or stained, but you can also be more susceptible to chipped or uneven teeth. For this reason, you might consider restoring and improving your teeth for a healthier and more confident smile. As long as you have healthy teeth and gums, you won't have to worry about being too old for cosmetic dentistry.
Which Cosmetic Treatment Is Best?
The cosmetic treatment that's right for you will depend on your specific smile goals. If you want to enhance the brightness of your pearly whites, then you may only need to get professional teeth whitening. However, if you're interested in a more comprehensive smile makeover, then we might recommend you get veneers instead. These porcelain shells will be able to conceal most minor dental imperfections—like chipped, cracked, stained, misaligned, and misshapen teeth—and offer a virtually permanent whitening solution. While they have numerous benefits, veneers do have a higher initial cost. The best way to know which treatment is for you is to schedule a consultation with us, that way we can examine you and determine how to achieve your desired results!
Are My Kids Too Young for Cosmetic Dentistry?
If your child doesn't have all their permanent teeth yet, then they may not be a good candidate for cosmetic dentistry. Our team understands how embarrassing having dental flaws can be, especially if someone is going through school and making friends. That said, we may be able to provide your little one with at least a teeth whitening depending on their situation. This way they can show off their pearly whites and feel confident about their smile for years to come.