Dental Implants Improve Syracuse Smiles

When you're struggling with a tooth that is failing or missing it presents daily challenges that most of us take for granted. For example, you may have a hard time chewing the foods you would normally enjoy, and this can cause your nutrition to suffer. It also may feel embarrassing to talk, smile, or eat in front of other people, which affects your confidence and self-esteem. With all these situations to think about, you may not even realize that your missing tooth is also affecting your oral health.
Missing Teeth and Oral Health
When your root is lost, your bone no longer has anything to support and it will begin to deteriorate, which eventually eliminates support for your other teeth and leads to tooth loss. Without a replacement, your remaining teeth will begin to shift into the open space left by your missing tooth, which increases your risk for fractures and bite misalignment and could lead to joint issues and TMJ. When you lose a tooth, unfortunately it's a downward spiral for more tooth loss, so it's important to think about a replacement.
What is a Dental Implant?
A dental implant has become the gold standard for tooth replacement in the world of dentistry because it restores both your tooth and your root. A titanium post takes the place of your root after being surgically placed into your bone. Titanium is biocompatible and naturally integrates with your bone over a healing period of 4-6 months. This creates a firm foundation for your new tooth, which is a porcelain crown.
How does the Procedure Work?
Dr. Craybas will guide you through the process from start to finish. He'll work closely with a trusted specialist who will handle the surgical placement of your dental implant. During the healing process, our doctor will carefully monitor your progress with regular examinations to ensure success, and let you know when it's time to deliver your crown.
After the appropriate healing time, our doctors will custom design your new crown to replace your tooth and complement your smile. The crown attaches to your implant with an abutment, and now you have a fully functioning new tooth!
What are the Benefits of Dental Implants?
Because an implant closely mimics your natural tooth, you'll have all the function that you enjoyed before such as chewing, smiling, and talking. You'll also be able to brush and floss as you were used to, which makes your dental implant very easy to care for.
Dental implants in Syracuse are a very reliable treatment, boasting a 95% success rate. They also offer incredible longevity, as with the right home care and regular dental checkups at Creative Dental Concepts, they have the potential to last for a lifetime. This also makes them a wise investment in your oral health.
Who is a Candidate for Dental Implants?
Dental implants require a couple things to ensure their success and those are:
The patient is in good general health
The patient has enough healthy bone structure to support the implant
Dr. Craybas can determine if dental implants are right for your needs with a thorough examination and x-rays. He may recommend a professional cleaning, or completion of any outstanding dental work such as a filling or crown be done prior to your implant surgery. This ensures that you maintain optimum oral health along with the success of your dental implant.
While implants work well for most patients, they may not be the right treatment for everyone. Our doctors are happy to discuss other options for replacing your tooth with you if it turns out that implants are not in your future.
How Do I Get Started?
The first place to start is to schedule a consultation with Dr. Craybas if you'd like to determine if dental implants in Syracuse will work for you. Once you decide to move forward you'll be referred to a specialist and your procedure will start from there.
Your trusted team at Creative Dental Concepts is here for you every step of the way, and we're happy to answer any questions or address any concerns you might have throughout the process.
Don't let your failing or missing tooth hold you back any longer! Hope is just a phone call away. Contact our office today to schedule your consultation.
Understanding the Cost of Dental Implants
Dental implants are an amazing treatment option that gives you the next best thing to your natural smile. They give you the ability to eat, speak, and smile with complete confidence, all while boosting your quality of life. While their price tag is higher than other solutions, the unique advantages that come with dental implants make them well worth an investment. There are many factors that contribute to the cost of dental implants in Syracuse. Read on to learn what you can expect.
Preliminary Treatments & Dental Implant Surgery
Before you get dental implants, we must treat any preexisting dental issues like gum disease. We may also need to extract teeth, depending on your treatment plan. Keep in mind that these treatments will add to the overall price of your implants. Surgery will incur a separate cost, and you may pay more if anesthesia is used. Because we place and restore dental implants, you'll have a single set of compact fees instead of multiple bills from your dentist and implant specialist.
The Parts of Your Dental Implant
The number of dental implants in Syracuse that you need will directly impact your cost. However, the price of your implants will also depend on the type you get. As with other investments, you get what you pay for. Dental implants can be made of titanium, zirconia, and other materials. We will always be transparent about the types of dental implants we use to give you peace of mind and ensure the success of your treatment.
Final Dental Implant Restoration
The kind of restoration that you require will also influence the overall cost of your replacement. Usually, the more teeth you need restored, the higher your implant cost will be. For a single missing tooth, a crown supported by a dental implant is perfect. If you're missing multiple teeth consecutively, we may recommend an implant-retained bridge. Lastly, if you're missing all or most of your teeth, we can combine dental implants with dentures for the most stable full smile replacement available.
Does My Dental Insurance Cover Dental Implants?
Usually, dental insurance does not cover dental implants, however there are some exceptions so it's always a good idea to check your plan first. We are always happy to communicate with your insurance provider and maximize your benefits whenever possible. Some parts of the process may be partially covered by dental insurance, including your initial consultation, treatment of preexisting dental problems, and restorations once the implants are placed. Just remember that coverage will vary from plan to plan, which is why we always recommend contacting us if you have any questions.
Making Dental Implants Affordable
Our goal is to make high quality treatments like dental implants as affordable as possible for our Syracuse patients. That's why we accept various payment options, including flexible financing based on your specific case. We also accept CareCredit financing, where patients can pay low-to-no interest payments based on a monthly plan that works best for them. If you have any questions, please don't hesitate to contact Vicky, our financial coordinator.
Dental Implant Frequently Asked Questions – Syracuse, NY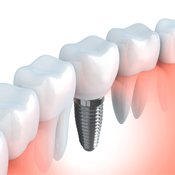 If you are thinking about dental implants as a replacement for a failing or missing tooth, you probably have a lot of questions! Dr. Craybas and our team at Creative Dental Concepts are happy to answer your questions and help you determine if dental implants in Syracuse are the right treatment for you. We've compiled answers to some of the most common questions we hear, but if you don't find the information you're looking for here, please feel free to call our office.
Do Dental Implants Last?
Dental implants offer patients excellent longevity since they have the potential to last for many years, and even a lifetime in some cases.
A consistent home care routine of daily brushing and flossing combined with routine checkups with Dr. Craybas every six months will ensure the health of your dental implant.
How Long Will It Take for My Implant to Heal?
Since every patient is unique, healing times do vary. However, most implants take a few months to fully integrate and fuse with your jawbone. Depending on the type of restoration you're getting, you may receive your restoration earlier as in the case of implant-supported dentures.
What Are the Advantages of Choosing Dental Implants Over Other Tooth Replacement Options?
Besides protecting your dental health by restoring both your tooth and root, a dental implant provides a lot more advantages for patients such as:
They look, feel, and function like a natural tooth
Implant dentistry is an extremely reliable procedure with a 95% success rate
Dental Implants provide excellent longevity, as they can potentially last for a lifetime
They are a good long-term investment in your oral health
How Much Will My Dental Implant Cost?
With implant dentistry, every case is unique so the cost also varies greatly. Your dentist in Syracuse takes into consideration the number of implants needed to restore your dental health and the types of restorations you require in order to determine the cost of your implant treatment plan.
The best way to determine how much your dental implants may cost is to schedule a consultation with our highly skilled dentist who will review the exact price of your individual treatment plan with you.
Does My Dental Insurance Cover Dental Implants?
Every dental plan is different and while many are not electing to cover dental implants at this time, your team at Creative Dental Concepts is happy to help you determine how to comfortably fit implant dentistry into your budget. For some patients, general health insurance may be used to reduce the cost of the surgical procedure.
We encourage our patients to review both their dental and general benefits before pursuing implant dentistry.
Do You Have Additional Questions?
Still have more questions? If you haven't found the answers that you need here, please contact our office at (315) 766-2256 and we'll be happy to further assist you.