Dental Implants — Syracuse, NY
Permanently Replace Your Missing Teeth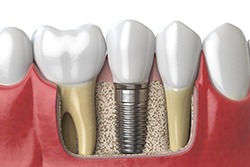 Missing one, several, or all your teeth presents daily challenges that most of us take for granted. For example, your favorite foods are no longer easy or comfortable to eat, which can negatively impact your nutrition. Certain words may become more difficult to pronounce clearly, and you may begin to feel embarrassed about talking, eating, or smiling around other people. As if that we're enough, tooth loss has a dramatic impact on your oral health, including jawbone deterioration, shifting teeth, and an increased risk of serious issues like gum disease. Thankfully, here at Creative Dental Concepts of CNY, we offer a solution that can permanently replace your missing teeth: dental implants in Syracuse. This remarkable tooth replacement option mimics natural teeth in practically every way, making them the best way to rebuild a complete, confident smile. To learn more, keep reading or give us a call to schedule your consultation!
Why Choose Creative Dental Concepts of CNY For Dental Implants?
Highly Experienced Dentists & a Team Who Truly Cares
Permanently Replace Any Number of Missing Teeth
Flexible Dental Financing Options Available Through CareCredit
What Are Dental Implants?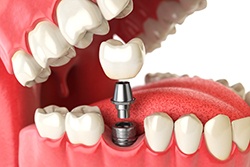 Dental implants are widely considered to be the gold standard of tooth replacement. This is because they are the only option that replaces the entire structure of a missing tooth. Other options such as dentures and dental bridges only replace the visible portion, known as the crown, which leaves them far less stable and less comfortable than natural teeth. On the other hand, a dental implant is a small titanium post that is inserted directly into the jawbone to replace the roots of a missing tooth. Once it integrates with the bone tissue, the implant can be topped with a beautiful and durable custom-made restoration to replace any number of missing teeth. The end result is a smile that looks, feels, and functions just like natural.
The 4 Step Dental Implant Process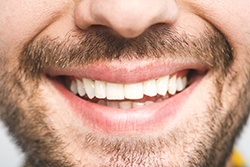 Unlike traditional dentures or bridges, dental implants require a one-of-a-kind, multi-step process that spans over the course of several months. While this may seem like a long amount of time for a tooth replacement, the lasting benefits that come with dental implants make them well worth the effort. Dr. Craybas is an experienced dentist who partners with local specialists to ensure the success of your treatment. While no two cases are the same, you can expect these four main steps: consultation, surgery, osseointegration, and final restoration. Read on to learn more about how dental implants work in Syracuse.
Initial Dental Implant Consultation
If you're interested in dental implants, the first place to start is to schedule a consultation with Dr. Craybas. He'll check to see if they're a good choice for your unique needs and goals. After reviewing your medical history and carefully examining your mouth, he may recommend certain preliminary treatments like gum disease therapy, tooth extractions, or bone grafting based on your needs. These treatments are used to help more patients take advantage of dental implants. Once any preexisting issues are addressed, you'll be referred to a specialist for the placement of the implant posts.
Dental Implant Surgery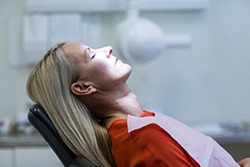 Dr. Craybas will guide you through the process from start to finish. He'll work closely with a trusted implant dentist in Syracuse who will handle the surgical placement of your dental implant. First, they will numb the affected area, and offer you sedation, depending on your comfort level. Then, a small incision is made in the gums to access the bone. After creating a tiny hole in the jaw, they will place your dental implant, close your gums, and place a protective cap on top – this will help you maintain your appearance and chewing ability.
Dental Implant Osseointegration & Abutment Placement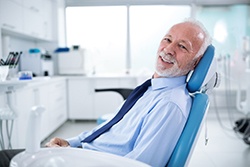 Next, you'll begin a special healing period called osseointegration. Dental implants in Syracuse are biocompatible, allowing them to fuse to the bone and become a permanent part of your body. This integration process can take between 3 to 6 months. While this may seem like a significant amount of time, the osseointegration is precisely what allows dental implants to bring you a wide range of unique benefits. There is a minor procedure after your initial surgery to place an abutment, which is a small connector for your restoration. During the last few weeks of healing, we will take impressions of your mouth to create your custom-made, finalized restoration.
Delivery of Dental Implant Restorations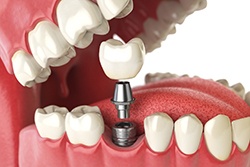 Last but not least, you'll return to our office to have your restoration placed. Whether it's a crown, bridge, or denture, we will always ensure that you're happy with your new smile. Part of this process is checking your bite to see that it feels natural and comfortable. Once your restoration is placed, all that's left to do is to walk out of our office with a beautiful, strong, and full set of teeth.
Benefits of Dental Implants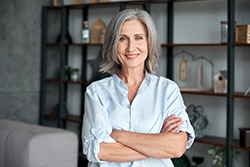 Every year, over 500,000 Americans choose dental implants. Because of their unique placement in the jawbone, they offer a wide variety of lifestyle and health advantages that you simply won't be able to enjoy with other options. They are the only replacement that restores the entire tooth, including the roots. From the foods you eat to the way you smile, dental implants can dramatically change your life. Read on to learn more about the benefits of dental implants in Syracuse!
Day-to-Day Benefits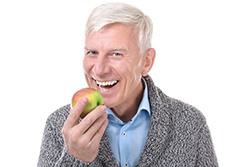 Diet: Are you tired of avoiding your favorite foods? Dental implants allow you to eat virtually whatever you want because they are fused to the jawbone! You can enjoy better quality of life with a more nutritious and delicious diet thanks to this amazing tooth replacement.
Confidence: Smiling and speaking in social or professional settings can be embarrassing and difficult for those with missing teeth. Or an unstable denture can cause self-consciousness and slurring. However, dental implants look, feel, and function just like your natural teeth, giving you the confidence to smile and speak every day.
Maintenance: Traditional dentures can be a pain to deal with each day. Thankfully, dental implants are firmly rooted in the jawbone, making them easy to care for. You can brush and floss your dental implants just like natural teeth!
Health Benefits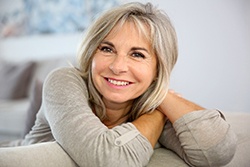 Dental health: Dental implants can be cared for similarly to natural teeth, making maintenance simple. They also prevent your remaining teeth from drifting out of place by keeping them supported and aligned.
Bone health: When you lose teeth, the stimulation your jaw was getting from their roots decreases, causing the bone to deteriorate. This can lead to additional tooth loss and a more sunken facial appearance. However, dental implants stimulate the jawbone to keep it healthy and strong, which also helps your facial appearance look youthful.
Overall health: Thanks to their strength, dental implants allow you to eat healthier foods like fibrous fruits and veggies, which can help with obesity and problems associated. Plus, dental implants lower risk of gum disease, which is a common problem that can contribute to overall health issues like heart attacks, strokes, diabetes, and more.
Long-Term Benefits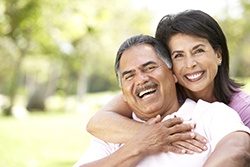 Predictability: While dental implants do require surgery, they have a success rate of 95% even after a decade. This kind of predictability gives you peace of mind and confidence going into your treatment as well as the healing period that occurs afterward.
Longevity: Unlike other tooth replacement options, dental implants themselves can last for over 30 years or even the rest of your life with proper care. Just make sure to brush, floss, and visit our office regularly for implant maintenance.
Cost: Dental implants tend to cost more than other solutions, however they are always worth the investment. By avoiding the necessary replacements that come with traditional dentures or bridges, dental implants can actually save you time AND money in the future!
Who Dental Implants Can Help
Dr. Craybas can determine if dental implants are right for your needs with a thorough examination and x-rays. He may recommend a professional cleaning, or completion of any outstanding dental work such as a filling or crown be done prior to your implant surgery. This ensures that you maintain optimum oral health along with the success of your dental implant.
While implants work well for most patients, they may not be the right treatment for everyone. Our doctors are happy to discuss other options for replacing your tooth with you if it turns out that implants are not in your future. Overall, practically any healthy adult with a strong jawbone can use dental implants to replace one, several, or all of their missing teeth.
Understanding the Cost of Dental Implants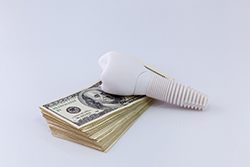 With implant dentistry, every case is unique, so the cost also varies greatly from patient to patient. Your dentist in Syracuse takes into consideration the number of implants needed to restore your dental health and the types of restorations you require in order to determine the cost of your implant treatment plan, as well as several other key factors.
The best way to determine how much your dental implants may cost is to schedule a consultation with our highly skilled dentist. We will review the exact price of your individual treatment plan with you and help you discover all the ways to make your new smile affordable. Read on as we go over some important information concerning the cost of dental implants in Syracuse.
Preliminary Treatments & Dental Implant Surgery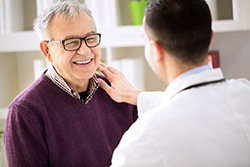 Before you get dental implants, we must treat any preexisting dental issues like gum disease. We may also need to extract teeth, depending on your treatment plan. Keep in mind that these treatments will add to the overall price of your implants.
The dental implant surgery itself will incur a cost of its own as well. Your oral surgeon will review exactly what you can expect to pay before your placement surgery so there are no surprises.
The Parts of Your Dental Implant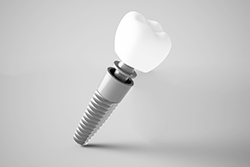 Then, you'll need to consider the cost of the dental implant itself. Naturally, the more dental implants you need or the larger the restoration, the more you can expect to pay. However, you won't always need to pay for a single dental implant for every tooth you're missing. You can replace an entire arch of teeth with just four to eight dental implants.
Additionally, dental implants come in all manner of sizes, materials, and brands that each influence the price. If you'd like to learn more about the specific type of dental implant you're interested in getting, don't hesitate to ask and we'll be happy to help.
How Dental Implants Can Save You Money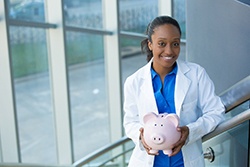 It's true that dentures and dental bridges have a lower initial cost than dental implants. However, they could end up costing you much more in the long run! These traditional restorations need to be replaced every 10 years or so, which can become very costly over time. Additionally, your annual oral healthcare costs will likely rise, as will your risk of cavities and gum disease. The one-time cost of dental implants, on the other hand, could last you 30 years or more with the right care! They'll help you keep a healthy smile and save you money on replacements. Not to mention that the self-confidence they can help you regain is priceless!
Does My Dental Insurance Cover Dental Implants?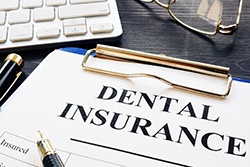 Usually, dental insurance does not cover dental implants, however there are some exceptions so it's always a good idea to check your plan first. We are always happy to communicate with your insurance provider and maximize your benefits whenever possible. Some parts of the process may be partially covered by dental insurance, including your initial consultation, treatment of preexisting dental problems, and restorations once the implants are placed. Just remember that coverage will vary from plan to plan, which is why we always recommend contacting us if you have any questions.
Making Dental Implants Affordable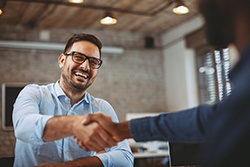 Our goal is to make high quality treatments like dental implants as affordable as possible for our Syracuse patients. That's why we accept various payment options, including flexible financing based on your specific case. We also accept CareCredit financing, where patients can pay low-to-no interest payments based on a monthly plan that works best for them. If you have any questions, please don't hesitate to contact Vicky, our financial coordinator.
Dental Implant FAQs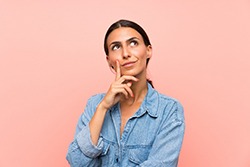 Dental implants in Syracuse provide many advantages that can change your life. Naturally, you may be curious about this treatment. We will go over each step in detail during your initial consultation, plus you can contact our office to speak with one of our friendly team members with any specific concerns. Until then, we've included the answers to some of the most frequently asked questions about dental implants below!
Does Getting Dental Implants Hurt?
While dental implants do require surgery, the procedure is much more comfortable than you may expect. Unlike your teeth, your jawbone doesn't contain very many pain-sensing nerve endings, making the procedure relatively trouble-free. Additionally, we'll always ensure that your mouth is numb with local anesthetic, and we have sedation for better relaxation. However, there will be some slight soreness after your surgery, which is completely normal. This pain can be managed with over the counter or prescribed medication. Contact us if you notice that your pain is getting worse after 2 to 3 days.
What Can Cause Dental Implants to Fail?
Dental implants have a success rate of 95% even after 10 years, making failure incredibly uncommon. However, certain lifestyle habits as well as poor dental health can cause issues. The most common reason for failure is peri-implantitis, which is a form of gum disease that develops from bad dental hygiene. It can damage the bone and gums supporting your implant. In other cases, the implant may fail to fuse properly to the jawbone, especially if there is low bone density. Other reasons for failure include tobacco use, certain medications, radiation, and health conditions like cancer, diabetes, and more.
Am I Too Young to Get Dental Implants?
Until adulthood, most people do not have fully developed jawbones. If dental implants are placed before the bone is finished growing, it may interfere with development and lead to health complications. Additionally, the implants themselves will be more likely to fail. That's why dentists will not offer dental implants to patients who are younger than 18. Sometimes, the bone may not fully develop until the mid-20s, plus men's jaws typically take longer to grow compared to women's jaws. We have digital X-rays that allow us to get an inside view of your jawbone to ensure that it's full and healthy.
Will I Have to Take Off Work for Dental Implant Surgery?
Typically, we recommend that you take off 1, maybe 2, days from work for your implant surgery. That said, no two smiles are the same, which is why your recovery time may vary. We will consider factors like the area of placement, and your oral health, before recommending the number of days you should take off. If your job is physically demanding, you may want to take at least 3 to 4 days because heavy exercise can divert blood from the healing site and slow down your recovery.