Implant Dentures – Syracuse, NY
Beautiful, Healthy, & Lifelike Smile Replacements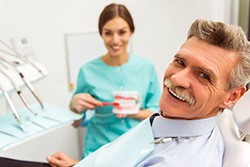 Looking for the best, most lifelike smile replacement? Implant dentures in Syracuse are the perfect option! They combine implants with dentures to give you the best of both worlds, resulting in a fortified, beautiful set of teeth. Contact Creative Dental Concepts of CNY today to schedule a consultation. Until then, read on to learn more about implant dentures and their many advantages.
Why Choose Creative Dental Concepts of CNY for Implant Dentures?
Partnered with Local Specialists
Hi-Tech, Comfortable Office
Experienced Dentist & Team
What Are Implant Dentures?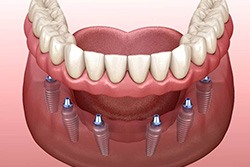 Implant dentures utilize dental implants, which are small posts that get surgically placed in the jawbone to act as artificial tooth roots. They effectively support dentures – your custom-made smile prosthetic. The result is a set of teeth that looks, feels, and functions just like a natural smile. Firmly rooted in the jaw, there is no slipping or sliding instead that occurs from traditional dentures that rest on top of the gums. During your initial consultation, we will recommend one of the following options:
Fixed/Permanent Implant Dentures
Fixed dentures are designed to remain in place – they can only be removed by a dentist. This is achieved with 4 to 6 strategically placed dental implants that permanently support a full denture. Many patients like this option because it looks and feels similar to a natural smile – some even forget they have dentures. That said, it does require higher jawbone density.
Removable Implant Dentures
Sometimes called "Snap-On dentures," removeable implant dentures utilize dental implants for supports just like permanent implant dentures. However, they are designed so the denture can be taken out and put back in. We can use clips or ball sockets to allow your denture to enjoy the benefits of implants, but it can be taken out for cleaning like a traditional prosthesis. Plus, this option only requires 2 to 5 implants.
The Implant Denture Procedure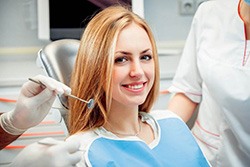 First, we will schedule your initial consultation. We partner with local specialists for the placement of your dental implants. After surgery, you'll complete the osseointegration process that allows implants to fuse to the jawbone. This lasts about 3 to 6 months, followed by the placement of abutments, which are small connectors. Lastly, you'll come back into our office for the placement of your permanent denture.
Am I a Candidate for Implant Dentures?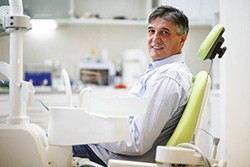 Most healthy adults who are missing all or the majority of their teeth are candidates for implant dentures. However, you must have good oral health and enough jawbone for the placement of implants. Preliminary treatments like tooth extractions, gum disease therapy, and bone grafting can often help more patients become good candidates for implant dentures. Please don't hesitate to call our office to schedule a consultation to learn more.
Benefits of Combining Dentures & Dental Implants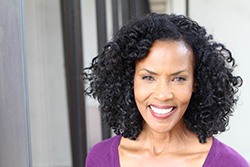 We offer implant dentures because of these amazing benefits:
Function:Enjoy full biting power, easy speaking, and natural laughing because your dentures will never shift.
Appearance:Implant dentures look and feel like your natural smile, so you can feel confident to show off your teeth.
Bone health:Implants stimulate the jawbone to keep it full, strong, and healthy.
Longevity:Dental implants themselves can last for decades if cared for properly, which will save you time and money from avoiding replacements down the road.