Dental Crowns & Bridges for Syracuse
At Creative Dental Concepts, our goal is to help you achieve and maintain a healthy and beautiful smile for a lifetime. One of the ways we do this is with crown and bridge restorations. While these restorations are utilized for completely different situations, they both have the common goal of preserving your tooth and protecting your oral health.
What is a Dental Crown?
When your tooth becomes fractured, injured, infected, or damaged beyond the scope of what a dental filling can repair, our doctors may recommend a dental crown to restore your tooth. A crown is made of high quality porcelain, and is designed to replace your natural tooth structure and protect your root. It fits over your remaining tooth structure like a "cap," taking the place of your damaged tooth.
Crowns are custom shaded to match your existing teeth and complement your smile. You'll enjoy all the same function you had before such as eating, chewing, smiling, brushing and flossing with your new tooth. With the right care, your crown can potentially last for many years, which makes it a great long-term investment in your oral health.
We're proud to offer CEREC one-visit crowns. A process that used to take 2-4 weeks to complete can now be done during one appointment with CEREC technology. Our doctors are able to design, fabricate and place your crown, so you'll leave our office the same day with your smile completely restored.
What is a Dental Bridge?
For patients who are missing one or more adjacent teeth, a dental bridge is an ideal replacement option. Using two crowns attached to your healthy teeth as anchors, a bridge fills in the gaps with custom prosthetic teeth. Our doctors combine both their skill and artistry to create a bridge that enhances your smile. To ensure the longevity of your bridge, it's important to keep your anchor teeth clean and healthy.
Dr. Craybas has been providing patients in Syracuse with high quality dentistry for decades. If you have a tooth that is failing, or in need of repair, he can determine which type of restoration is right for your needs during and evaluation.
With so much advanced training and experience between them, you can rest assured that no matter what type of repair your tooth needs, you're in capable hands. We also use only the finest materials to create your restorations so they not only look appealing; they're also durable and long lasting.
We know you'll appreciate the personalized care you receive when you choose to work with Creative Dental Concepts of CNY. Give us a call today to schedule your next appointment
Dental Crowns FAQs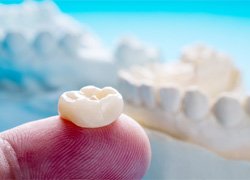 Interested in getting a dental crown from a restorative dentist in Syracuse? From improving your appearance to protecting your tooth and offering durability, there's a lot to like about adding a crown to your smile. At Creative Dental Concepts of CNY, we'll go over all the details of this choice during your consultation so you can feel confident in your decision. Before you even sit down with one of our dentists, keep reading to check out some frequently asked questions from our patients about dental crowns.
Do Dental Crowns Get Cavities?
While it's technically impossible for a crown to develop a cavity, the tooth underneath it still could. A crowned tooth has a similar risk of decay compared to an uncrowned one. Poor oral hygiene makes it possible for bacteria and plaque to form where the tooth meets the crown; if they spread underneath the crown, it could mean major trouble for the tooth. Cavity prevention for crowned teeth is the same method as uncrowned – daily brushing and flossing with regular checkups and cleanings.
Does It Hurt to Get a Dental Crown?
Your dentist numbs the tooth they need to work on when you get a crown. That usually means a topical anesthetic, but if you have severe anxiety, they may use dental sedation. Of course, they'll check to see what you prefer. After your tooth is prepped for a crown, it may be sensitive for a few days, particularly if you also had a root canal. Since a crown protects a vulnerable tooth from damage, in the long run, it will likely prevent pain instead of causing any!
What Happens If You Wait Too Long to Get a Dental Crown?
Waiting too long to get dental crowns in Syracuse can have some detrimental consequences on your oral health and your wallet. For example, if the root of the problem is decay, the infection can continue to delve deeper into the tooth, increasing your risk of needing a root canal or an extraction. Therefore, it's always best to schedule the procedure sooner rather than later.
What's the Difference Between a Temporary Crown and a Permanent Crown?
As you might expect, a temporary crown is not meant to last a long time – just a few weeks while your permanent crown is fabricated in a lab. Temporary ones are made from inexpensive materials like acrylic or composite resin. They are bonded with weak cement, so removal is easy when it's time for your permanent crown to be placed. Your permanent one will be bonded with stronger cement and is made of porcelain to withstand chewing and biting pressure for at least 5-15 years. Also, consider that we offer CEREC same-day crowns .